November 24, 2014 | By Nick Carver

Learn Adobe® Lightroom® online at your own pace
8 lesson guides | 4 ½ hours of video | Lifetime course access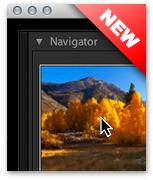 I'm delighted to announce that my new Adobe Lightroom Online Course is ready for enrollment! This is my most extensive online course ever created with 8 lesson guides comprising 252 pages of material along with a whopping 37 videos totaling 4 ½ hours of instruction. This course is jam-packed with Adobe Lightroom 5 tutorials that will teach you how take control of this incredible piece of software.
In this course you'll learn how to make powerful image adjustments that will take your photos to the next level, how to organize your pictures effectively, how to avoid the common mistakes (and headaches) many Lightroom users make, and how to create and manage an efficient workflow! Learn how to soften skin, whiten teeth, enhance the eyes, recover shadow detail, intensify your landscapes, make advanced color correction and tone adjustments, airbrush specific areas of your photos, and so much more. But it's not just about image enhancement, you'll also learn how to manage your image files efficiently so that you can find them quickly and easily. Check out the free preview here for a sneak peak into all the amazing things you'll learn in this in-depth course.
With included lifetime course access, you can work as fast or as slow as you want on this self-paced online photography course. Never worry about losing access to the materials, and review the curriculum as often as you want. Click here to learn more about how this online photography course work.
This Adobe Lightroom Online Course is designed to get even the most technically-challenged newbies in control of Lightroom so they can edit better, faster, and with less frustration. So what are you waiting for? Unleash the power of Adobe Lightroom today with this Adobe Lightroom Online Course!
Use promo code HOLIDAYS10 at checkout for 10% off thru Dec 2nd!