November 24, 2014 | By Nick Carver

Learn Adobe® Lightroom® online at your own pace
8 lesson guides | 4 ½ hours of video | Lifetime course access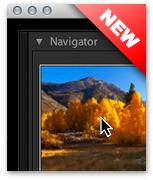 I'm delighted to announce that my new Adobe Lightroom Online Course is ready for enrollment! This is my most extensive online course ever created with 8 lesson guides comprising 252 pages of material along with a whopping 37 videos totaling 4 ½ hours of instruction. This course is jam-packed with Adobe Lightroom 5 tutorials that will teach you how take control of this incredible piece of software.
In this course you'll learn how to make powerful image adjustments that will take your photos to the next level, how to organize your pictures effectively, how to avoid the common mistakes (and headaches) many Lightroom users make, and how to create and manage an efficient workflow! Learn how to soften skin, whiten teeth, enhance the eyes, recover shadow detail, intensify your landscapes, make advanced color correction and tone adjustments, airbrush specific areas of your photos, and so much more. But it's not just about image enhancement, you'll also learn how to manage your image files efficiently so that you can find them quickly and easily. Check out the free preview here for a sneak peak into all the amazing things you'll learn in this in-depth course.
With included lifetime course access, you can work as fast or as slow as you want on this self-paced online photography course. Never worry about losing access to the materials, and review the curriculum as often as you want. Click here to learn more about how this online photography course work.
This Adobe Lightroom Online Course is designed to get even the most technically-challenged newbies in control of Lightroom so they can edit better, faster, and with less frustration. So what are you waiting for? Unleash the power of Adobe Lightroom today with this Adobe Lightroom Online Course!
Use promo code HOLIDAYS10 at checkout for 10% off thru Dec 2nd!

NEW
Adobe Lightroom Class


Class starts August 30th in Tustin, CA and runs for 3 Consecutive Saturdays
I'm very pleased to announce that, by popular demand, I've come up with a brand new Adobe Lightroom Class at the Nick Carver Photography Learning Center in Tustin, CA! This class begins Saturday, August 30th at 10:00am-12:30pm and meets the subsequent 2 Saturdays for a total of 3 meetings to discuss workflow, file management, image adjustments, output, and more!
Adobe Lightroom offers a world of valuable tools to the digital photographer, but many users don't use this program to its full potential. In this class about Adobe Lightroom, you'll learn everything from import to export, including proper file management, how to adjust images for maximum impact, how to set up an efficient workflow, and more. This isn't just a class about how to use Adobe Lightroom, it's about how to use Lightroom like a pro to cut down your time at the computer and create better results.
I'm big on creating a good, efficient workflow. With the right approach, you can drastically reduce your time sitting in front of the computer. And thanks to Lightroom, you can do it quicker than ever. But the key is knowing how to make the most out of this revolutionary program. That's why I'll be teaching you all the most important topics to get the effects you want and create the organization you need.
Students must have a laptop to bring to class with Adobe Lightroom 4 or 5 loaded on it. All skill levels including beginners are welcome, but advanced "power" users may find this class to be largely review. If you don't have a laptop to use for this course, you're welcome to attend the class for the information, but please be aware that you'll be limited in being able to do some of the in-class exercises.
Maximum class size: 12 seats - $89
Click Here for More Information and to Enroll Today!

At the popular request of many students, I will soon be offering a group class in Tustin all about Adobe Lightroom. The class will total 7.5 hours of instruction and cost $89. The only question I have is, "what schedule works best for you?" So please take 30 seconds to answer the poll below. I appreciate your help!
And for my students in other parts of the world, worry not! I will be creating an online course version. But that's going to take some time to make...
[polldaddy poll="8179874"]